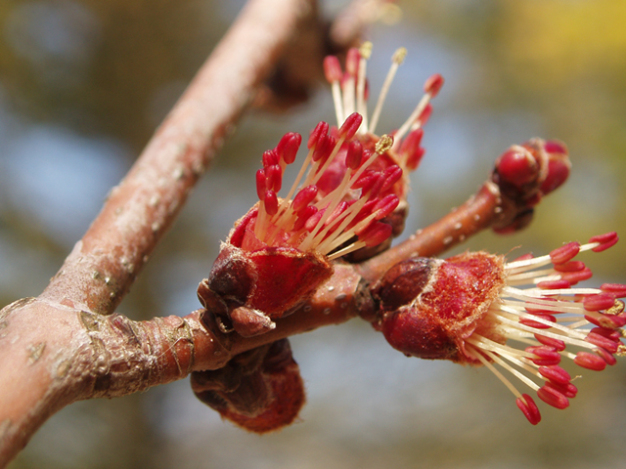 Common Name: Silver Maple
Full to part sun; medium to moderately dry moisture level; soils include moderately coarse sandy loams to fine sandy and silty clays; moderately acid to slightly acid pH.
60-75 feet height by 30-50 feet spread; inconspicuous greenish yellow to red flowers in spring; winged brown samaras (seeds) in late spring to early summer.
Growth Rate: Very fast. One of the fastest growing trees of the eastern forests; can grow 3-7 feet per year.
Maintenance: Frequent insect and disease problems. Frequent wind and ice damage due to very weak, brittle branches.
Propagation: Seed germination code A. Easy from seed and easy from softwood cuttings.
Native Region: Statewide
Upright tree with strong spreading branches that form an oval to rounded crown. One of the best trees for poor soils where few other species will survive. Will grow wherever adequate moisture is assured but does best on moist river bottom soils. Occurs naturally in floodplains and on riverbanks where it can withstand several weeks of complete inundation. Wood is brittle and limits its longevity in areas where high winds and accumulating ice are common. Has a very shallow, wide-spreading root system which will cause sidewalks to buckle and can clog drain tiles. Produces a prolific quantity of seed. Fall color is an unremarkable yellow and green mix. Relatively short-lived, maturing at 50-75 years and rarely living beyond 125 years. Cultivars available.
Very high wildlife value. Attracts birds and mammals. Larval host plant for the Cecropia moth.