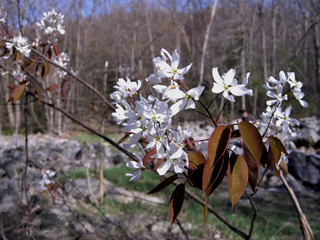 Common Name: Common Serviceberry, Juneberry, Downy Serviceberry, Shadbush
Full sun to light shade; medium to dry moisture level; tolerant of a wide range of soils including clay; moderately acid to neutral pH.
15-25 feet height by 15-25 feet spread; blooms in spring; white flowers; fruit is reddish, purple berry ripening in June.
Growth Rate: Medium
Maintenance: Easy to grow but is not reliable under high stress conditions. No serious disease problems; occasional insect problems. Root suckers need to be removed to avoid a shrubby growth. Rarely requires pruning.
Propagation: Seed germination code M. Moderately easy by seed; difficult from cuttings.
Native Region: Statewide
This species is generally a small tree in the woodland understory or on the woodland edge. When open grown, it becomes a handsome single or multi-trunked tree and is one of our finest native trees for fall coloration. Flowers are showy and fragrant. This species is often sold in the nursery trade as Amelanchier canadensis which is in fact a separate species. Many cultivars are available commercially. Attracts birds.