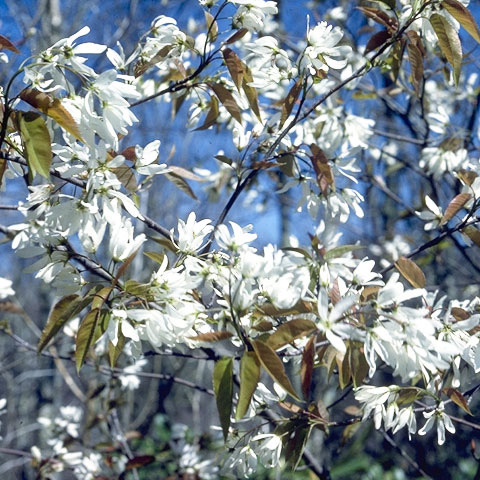 Common Name: Allegheny Serviceberry, Smooth Serviceberry
Sun to light shade; moderately wet to medium moisture level; preferred soil includes coarse loamy sands, sandy loams to medium loams; slightly acid pH.
25-40 feet height by 8-18 feet spread; blooms in spring; white flowers; reddish black to purple fruits ripen in June.
Growth Rate: Moderate
Maintenance: Infrequent disease and insect problems
Propagation: Moderately easy from seed and moderately difficult from cuttings
Native Region: Concentrated in the Ridge and Valley and the Blue Ridge provinces with isolated spots in Western and Middle Tennessee
This species is the Amelanchier "tree of choice." It has large flowers and delicious, sweet dark purple fruits. It occasionally hybridizes with A. arborea in the wild to produce Amelanchier x grandiflora, Apple Serviceberry, which is available commercially. High wildlife value.