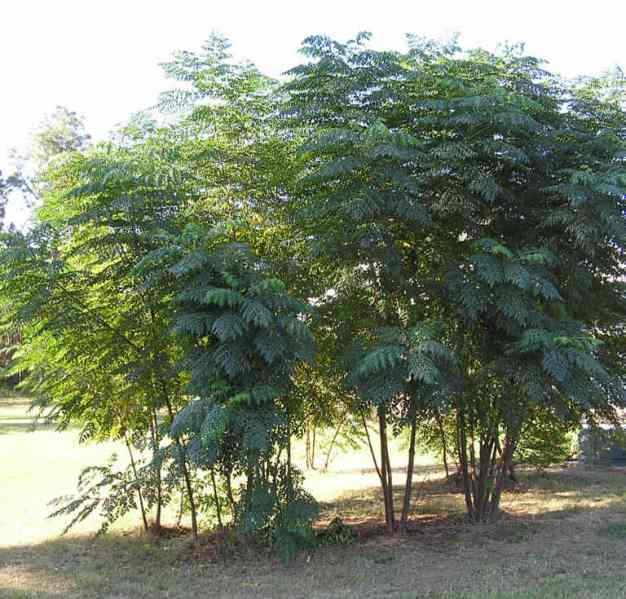 Common Name: Devil's Walkingstick, Hercules Club Prickly Ash, Angelica Tree
Full to part sun; medium moisture level; best in fertile soil but will also grow in dry, rocky or heavy soils including clay; slightly acid pH preferred but will tolerate neutral to slightly alkaline pH.
10-20 feet height by 6-10 feet spread; white panicles of flowers in July and August; purplish black berries on reddish stems in October.
Growth Rate: Slow to medium on old wood but fast on shoots which develop from the base. Can sucker fairly quickly into colonies and also spreads by re-seeding.
Maintenance: Rate at which it develops new shoots from roots can create a maintenance problem. Promptly remove suckers to prevent unwanted spread. Avoid cutting the trunk to the ground to rejuvenate because it will have the undesired effect of creating many new sprouts from the spreading roots. Will grow as a fairly well controlled tree as long as the crown is not damaged. No serious disease or insect problems.
Propagation: Seed germination code C (60-90) at 41 degrees F.
Native Region: Scattered statewide
Large shrub or small tree with multiple trunks and stout branches. Branches have scattered, orange thorns that are prickly to the touch. Immense foliage 3-4 feet in length. Flowers are showy and long-lasting, produced in panicles at the end of the branches. Has an airy, palm-tree like appearance. Most showy at the end of summer when in flower. In the right location, it is a beautiful specimen plant. Tolerates drought and many urban pollutants. Best sited in sheltered areas protected from strong winds due to large compound leaves.
Attracts birds and small mammals which eat the berries.