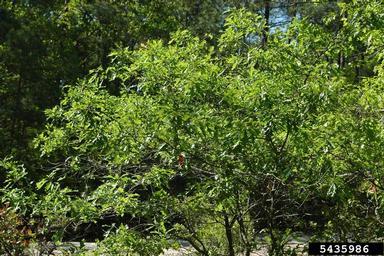 Common Name: Dwarf Hackberry, Small Sugar Hackberry
Full sun; medium to dry moisture level; tolerates a wide range of soils including loamy, rocky, sandy, and clay; neutral to alkaline pH.
12-25 feet height by 8-15 feet spread; greenish-white flowers in spring; purplish-brown, fleshy fruit, 1/8 – ¼ inch, in fall containing a single, hard stone that encloses a seed.
Growth Rate: Slow to medium
Maintenance: Susceptible to witches' broom, caused by a small mite, which can be significantly disfiguring but not fatal.
Propagation: Seed germination code C (60-90) at 41 degrees F.
Native Region: Primarily in Middle and East Tennessee and concentrated in the Blue Ridge and Cumberland Plateau provinces
Uncommon to rare, small tree of rocky habitats. High drought tolerance. Fruit attracts birds.