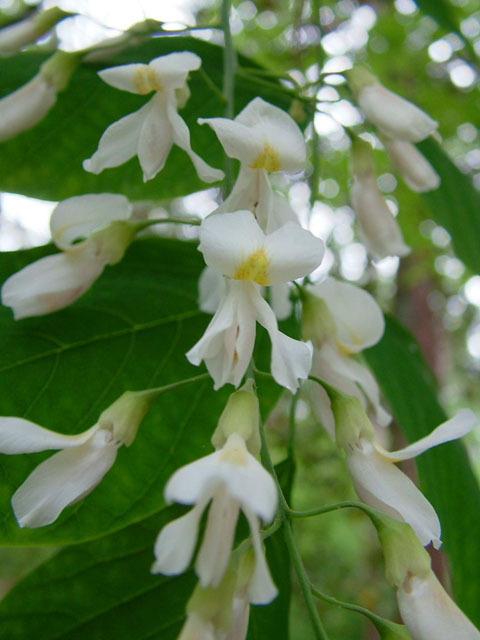 Common Name: Yellowwood, American Yellowwood
Full to part sun; medium moisture; rich loamy soil; neutral to slightly alkaline pH.
30-50 feet height by 40-55 feet spread; white or pale pink flowers in May; flat, oblong, brown seed pods ripening in late summer and persisting through winter.
Growth Rate: Medium
Maintenance: Low maintenance. Very few insect or disease problems. Corrective pruning in fall helps overcome the brittleness of the wood and promotes strong branching. Try to prune to a single lead when young which reduces tendency of the trunk to split at the crotch as the crown ages. Do not prune in winter or spring when it will bleed profusely or immediately after transplanting.
Propagation: Moderately easy from seed
Native Region: Scattered lightly statewide with greatest concentration in Unaka Mountains and Cumberland Plateau
Small canopy tree that has been designated Tennessee's Bicentennial Tree. Choice shade tree for smaller properties. Among the rarest trees in our eastern flora. First discovered in the Cumberland region of north central Tennessee, near the current town of Gainesboro. Most striking feature is the beautiful panicles of snow white flowers that hang from the branch tips in spring, often compared to wisteria blooms. Begins to bloom after 8-10 years and then only produces a good show every 2-3 years. Beautiful, delicate orange or yellow fall color to leaves. Roots go deep so easy to plant grasses and shrubs beneath it. Fairly uncommon in the nursery trade.
Attracts bees.