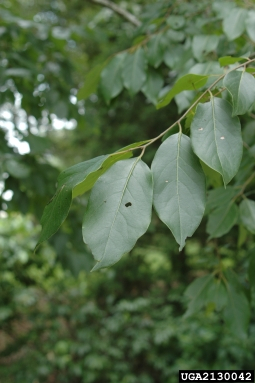 Common Name: Common Persimmon, Possumwood, Eastern Persimmon
Full to part sun; medium to moderately dry moisture level; prefers sandy soil but tolerates clay and rocky soils; pH adaptable.
35-60 feet height by 20-35 feet spread; yellow to greenish white flowers in May and June, with male flowers in clusters of 2-3, and one solitary female flower per leaf ; 1 – 1 ½ inch yellow to orange fruit (technically berries) in September and October.
Growth Rate: Slow to medium. Spreads by root sprouts and a single plant can colonize into a thicket.
Maintenance: Usually free of disease and insect problems although webworms can be a problem in some years. If growing conditions are good and trunk is left undisturbed, persimmons will sucker much less.
Propagation: Seed germination code C (60-90) at 41 degrees F. Easy from seed.
Native Region: Statewide
Often used as an ornamental tree due to its hardiness, adaptability to a wide range of soils, and immunity to disease and insects. White, bell-shaped flowers are delightfully fragrant. Two trees, a male and female, are necessary to get fruit. Fruit is very tart until it ripens after frost. Immature fruit contains a tanin which is very astringent. When ripe, flavor of fruit resembles flavor of dates and can be used to make pies, cakes, jams and jellies, and beverages. Fruits are full of seeds. Fruit may be produced by 10 years of age but optimum fruit production is at 25-50 years. (A tree can reach 150 years of age.) Good fruit crops are borne every two years. Rich yellowish or reddish purple foliage in fall. Sends down a deep taproot which makes it a desirable species for erosion control Cultivars available.
Fruit is important winter food eaten by raccoons, opossums, skunks, foxes, birds and other small mammals as well as humans. Flowers attract bees and moths.