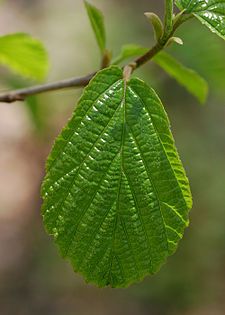 Common Name: American Witchhazel, Common Witch Hazel
Sun to light shade; moderately wet to moderately dry moisture level; prefers rich organic soil but tolerates clay soils; ? pH.
8-20 feet height by 8-20 feet spread; blooms in fall; golden yellow flowers; light brown seed capsules that form over a long period into the following growing season.
Growth Rate: Fast when young
Maintenance: Easy to grow. Produces suckers which should be promptly removed to control spread if desired. No serious insect or disease problems. Pruning is rarely needed; prune early spring if necessary.
Propagation: Difficult from cuttings and moderately difficult from seed
Native Region: Eastern half of state and western portion of the Highland Rim
Large shrub or small tree with a multi-stemmed, vase-shaped habit. Leaves turn a unique, apricot yellow in fall. Flowers are showy and fragrant. Flowers in fall when leaves are yellow and falling, so blooms are not as easily seen. Native to woodlands, forest margins and streambanks.