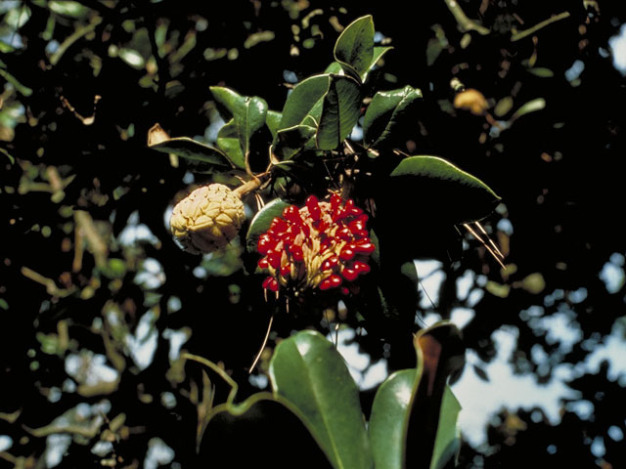 Common Name: Southern Magnolia, Bull Bay, Evergreen Magnolia
Full to part sun; moderately wet to moderately dry moisture level; prefers rich, organic soil but grows in sandy, sandy loam, medium loam, clay loam and clay soils; acidic pH.
60-80 feet height by 30-50 feet spread; ivory white flowers in late spring; bright red seeds in fall.
Growth Rate: Relatively fast
Maintenance: Essentially problem free. Often goes into shock and drops its leaves after being transplanted. August is best time to transplant. If needed, prune after blooming during growing season because dormant magnolias do not heal easily. Fertilize in spring, mid-season and fall with azalea-type fertilizer. Leaves are messy and very slow to decompose, although in a naturalized setting, this should not be a problem.
Propagation: Seed germination code C (60)
Native Region: Limited to 12 counties scattered across the state west to east
Very worthwhile, handsome evergreen tree that functions as an understory tree or a shade tree. Forms a thick, rounded canopy that is impenetrable to light. Flowers are 12 inches or more in diameter and have a very fragrant, lemon scent. Best planted in rich organic soil in a location protected from winter winds and sun. Needs room to develop. This is a tree of the Deep South, and Tennessee is on the edge of its range. In Zone 6, it will tend to suffer leaf burn or become defoliated under the strong sun in late winter. Cultivars may be more manageable, but buyers should research cold hardiness before purchasing.