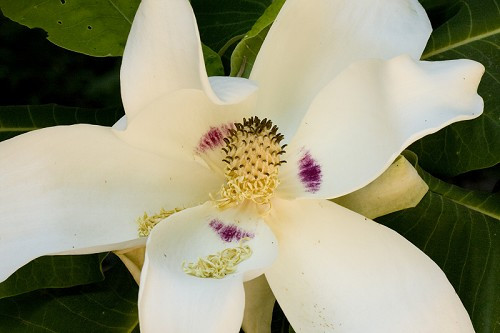 Common Name: Bigleaf Magnolia
Full to part sun; medium moisture; organically rich, loamy soil; acidic pH.
30-40 feet height by 30-40 feet spread; creamy white flowers with purple petal bases in spring; spherical, cone-like, red fruits in late summer.
Growth Rate: Medium
Maintenance: Low maintenance. No serious disease or insect problems. Best sited in sheltered locations to protect large leaves from being shredded by heavy winds.
Propagation: Germination code C(60). Moderately easy from seed.
Native Region: Middle and East Tennessee
A round-headed, understory tree with the largest flowers and leaves of all native North American species, except for tropical palms. Leaves up to 3 feet long and 1 foot wide with showy, fragrant flowers up to 16 inches across. Flowers not always easy to see close-up because are often located far off the ground. Interesting sight in fall when leaves have fallen, and ground appears to be littered with large pieces of gray-green paper. May not be the easiest tree for the cultivated landscape due to difficulty in raking leaves, but tree is imposing and stately in appearance when open grown in a broad expanse of lawn. Tree blooms more heavily and at an earlier age in sun. Generally intolerant of wet or dry soil extremes. Rarely found in the wild, being limited mainly to a few rich wooded areas in river valleys and ravines. Cultivars available.
Limited wildlife value.