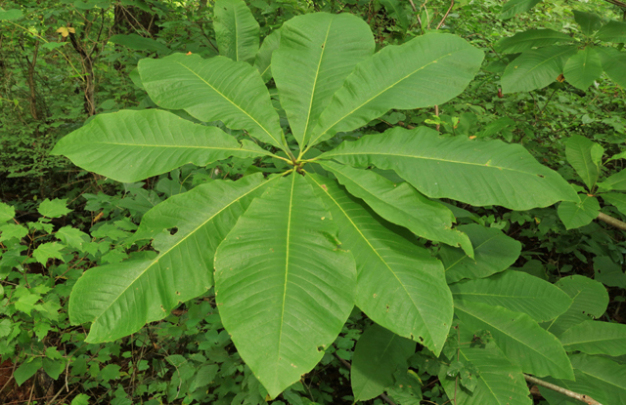 Common Name: Umbrella Magnolia, Umbrella-Tree
Full to part sun; medium moisture level; deep, rich loamy soil; strongly to slightly acid pH.
25-40 feet height by 15-35 feet spread; creamy white flowers 6-10 inches across in May to early June; 4 inch long, rosy red fruits mature in September-October.
Growth Rate: Slow to medium
Maintenance: Low maintenance
Propagation: Seed germination code C (120-150) at 40 degrees F. When sown outdoors, seed germination is sporadic, taking 1-2 years.
Native Region: Concentrated in eastern half of Tennessee
This is a deciduous, understory tree with leaves that reach 12-30 inches in length and very large flowers, 6-10 inches across, with an unpleasant floral smell. Leaves are clustered near the end of branches, creating an umbrella effect. Hardiest of the big-leaf, deciduous group and easy to grow if its needs are met. Appreciates regular and consistent moisture throughout the year. Site in area protected from the wind to prevent damage to leaves. Intolerant of soil extremes, dry or wet. Has wide, shallow roots and should not be planted where roots can be damaged by foot traffic. Typically found at low altitudes in the Great Smoky Mountains National Park where it is native to streambanks, swamps and rich, moist woods. Trees do not typically live for more than 40 years and are rarely available from nurseries.