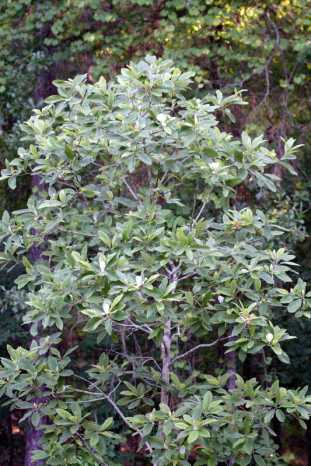 Common Name: Sweetbay Magnolia, Laurel Magnolia, Swamp Magnolia
Full to part sun; wet to medium moisture level; tolerates a wide range of soils; acidic pH 6.8 or less.
10-35 feet height by 10-35 feet width; white flowers in May and June; cone-shaped cluster of bright red seeds in late summer.
Growth Rate: Medium to fast
Maintenance: Low maintenance. No serious insect or disease problems. Any pruning should be done after blooming because dormant magnolias do not heal easily.
Propagation: Seed germination code C(60)
Native Region: Limited to 3 counties: Hardeman, McNairy, and Polk
Designated a "Threatened Species" in Tennessee. A beautiful tree with sweetly fragrant flowers 2-3 inches in diameter, aromatic spicy leaves, and colorful red seeds. Makes an excellent specimen tree for yards. Can be grown as a tall tree with a rounded crown or as a shorter, suckering shrub of loose, spreading habit. Although it prefers moist, rich organic soils, it is one of the few magnolias that does quite well on heavy clay soils. Tolerates wet boggy soils and is native to open woodlands, shaded woods and swamps. Alkaline soils will cause yellowing of the leaves. Evergreen to semi-evergreen depending on winter temperatures.
Birds relish the bright red seeds. Occasionally Spicebush Swallowtails or Tiger Swallowtails will lay eggs on the leaves.
Cultivars available.