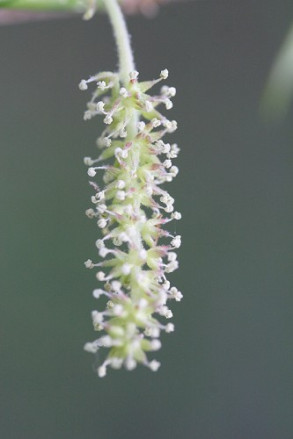 Common Name: Red Mulberry
Full to part sun; moderately wet to moderately dry moisture level; prefers deep well drained soil high in organic matter but also grows in moderately coarse sandy loams, clay loam and clay; slightly acid to alkaline pH.
35-50 feet height by 35-40 feet spread; small dense, catkin-like flower spikes, ¾ – 1 inch long, in late spring; dark reddish purple berries, 1 inch long, and resembling a blackberry in mid-summer.
Growth Rate: Fast (10-12 feet in 5 years). May self-seed prolifically.
Maintenance: Medium. Frequent disease and insect problems. Frequent wind and ice damage.
Propagation: Seed germination code C (30-60) at 33-41 degrees F. Easy from seed or from cuttings.
Native Region: Statewide
Medium-sized tree with a short trunk and stout, spreading branches. Red Mulberry has long been used in Appalachia for raw fruit, pies, jams, juice and wine. Not a desirable tree for a manicured setting due to its weedy self-seeding and messy fruit but desirable in a naturalized setting due to its very high wildlife rating. Trees are either monoecious (both male & female flowers on same tree) or dioecious (male & female flowers on separate trees). Need monoecious trees or both male and female trees to get fruit. A tree with only male flowers will never bear fruit. Best fruit production occurs in full sun. Native to shaded woods, stream and river banks, ditches, ravines and depressions. Growing the tree in its native habitat using local seed stock will help reduce debilitating pests.
Fruit attracts songbirds, upland birds, large and small mammals, and humans. Flowers attract butterflies, and leaves are larval food for Mourning Cloak and Red Admiral butterflies.