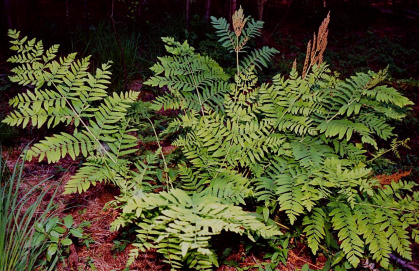 Common Name: Royal Fern, Flowering Fern
2-3 feet tall by 2-3 feet spread. Part shade to full shade and tolerates heavy shade; wet to medium moisture level; prefers rich, humusy soil but adapts to poorer conditions including sandy, sandy loam, medium loam, clay loam and clay; moderately to slightly acid pH.
Maintenance: Low
Growth/Colonizing Habit: Spreads by slowly creeping rhizomes. One of the slowest spreading ferns. Propagate by rhizome division in fall or early spring.
Foliage: Deciduous
Native Region: Statewide
Easy-to- grow fern with delicate, bright green fronds. Form and texture of this fern are unique. Fronds are twice cut into large, rounded leaflets that make the foliage resemble the pea family. Fronds are crowned with golden, fruiting leaflets on wine-colored stems that resemble groups of flowers, hence one of its common names. Tolerates year-round shallow water. Native to swamps, marshes, stream banks, and moist depressions in the ground.