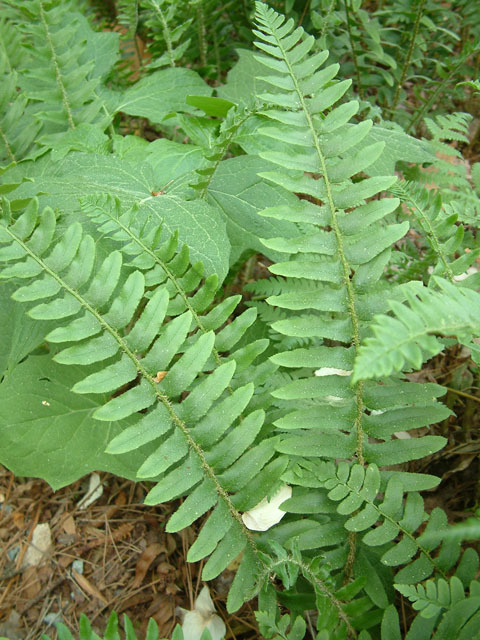 Common Name: Christmas Fern
1-2 feet tall by 1-2 feet spread. Part shade to full shade and tolerates heavy shade; medium to moderately dry moisture level; best grown in rich, humusy soil but tolerates shallow rocky soil; moderately acid to neutral pH.
Maintenance: Low
Growth/Colonizing Habit: Creeping, stout roots slowly produce clumps. Although rhizomatous, it will not spread or naturalize. Clumps simply increase in size over time. Clumps can be divided in early spring.
Foliage: Evergreen but fronds lay flat on ground during winter.
Native Region: Statewide
An accommodating garden fern with deep, green glossy foliage that adapts to a wide range of conditions. A good plant for massing on slopes, especially dryish, rocky slopes, to help reduce soil erosion. Common name refers to practice of gathering the green fronds at Christmas to use as holiday decoration. Occurs naturally on both dry and moist wooded slopes, moist banks and ravines