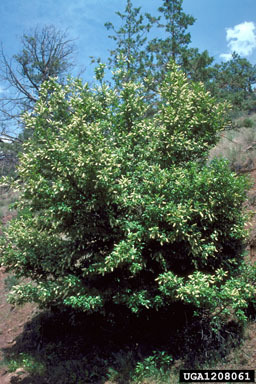 Common Name: Chokecherry, Common Chokecherry
Full sun to light shade; medium to moderately dry moisture level; prefers rich loams but will grow in a range of soils including sandy loams, loamy sands, silt loams, clay loams, and rocky soils; neutral pH.
20-30 feet height by 15-20 feet spread; white flowers in May before leaves are fully developed; fruit is a red berry, 1/3 inch in diameter, ripening to dark purple-black in late summer.
Growth Rate: Fast. Can become weedy. Rhizomes can extend up to 35 feet from base of the tree, forming a thicket.
Maintenance: Medium. Common insect problems are tent caterpillars and aphids.
Propagation: Seed germination code E. Can be propagated by either seed or root cuttings. Moderately easy from seed.
Native Region: Occurs in 5 counties in the Blue Ridge Province – Polk, Blount, Sevier, Green and Johnson
Designated a "Special Concern" species in Tennessee. Shrubby, weedy-looking understory tree that is primarily used as a food product to make fine preserves, juice, jelly and syrup. Very important commercial fruit tree. Member of the Rose family. Showy, fragrant, cup-shaped flowers, ½ inch across, in elongated clusters, 3-6 inches long. Best flowering achieved in full sun. Showy, edible fruit is very tart and puckery when raw, hence the common name of Chokecherry. Fall leaf color is golden yellow to orange. Leaves, bark, stems and seed pits of the fruit are all toxic and potentially poisonous to all classes of livestock though rarely fatal to humans. Cultivars available. 'Schubert' is one of the oldest cultivars.
Many wildlife species eat the fruit including birds, rabbits, rodents and bears. Attracts butterflies and bees.