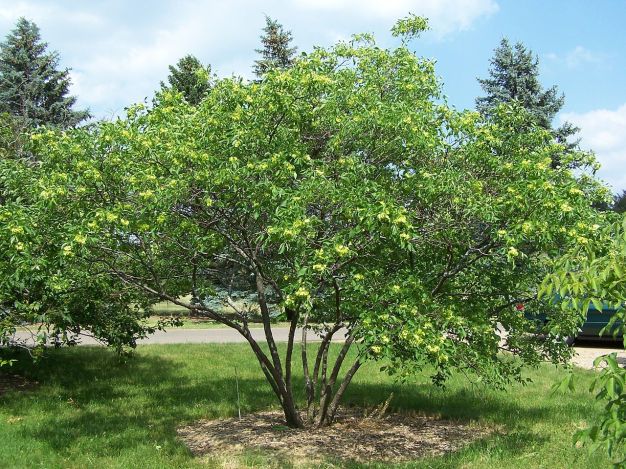 Common Name: Common Hoptree, Wafer-ash
Full sun to heavy shade; medium to dry moisture level; adaptable to a range of soils including moderately coarse sandy and gravelly loams, medium loams to moderately fine sandy loams, clay loam and clay; neutral pH.
15-20 feet height by 15-20 feet spread; inconspicuous yellow-green flowers in spring; dry, winged, one-seeded, tan-brown fruit, 3/5 inch wide, in dense clusters from late summer into fall.
Growth Rate: Medium to slow
Maintenance: Low. Various leaf spot and rust diseases but none serious.
Propagation: Seed germination code C(90) at 41 degrees F.
Native Region: Middle and East Tennessee
Dense, rounded, small understory tree or shrub that occurs naturally in rocky woods, glades, ravines, thickets and prairies. Flowers not particularly showy but fruits are ornamental. Very adaptable and easy-to-grow tree which is good for both moist and dry conditions. Cultivars available.
Intermediate wildlife value. Flower nectar attracts many species of butterflies. Larval host for Eastern Tiger Swallowtail.