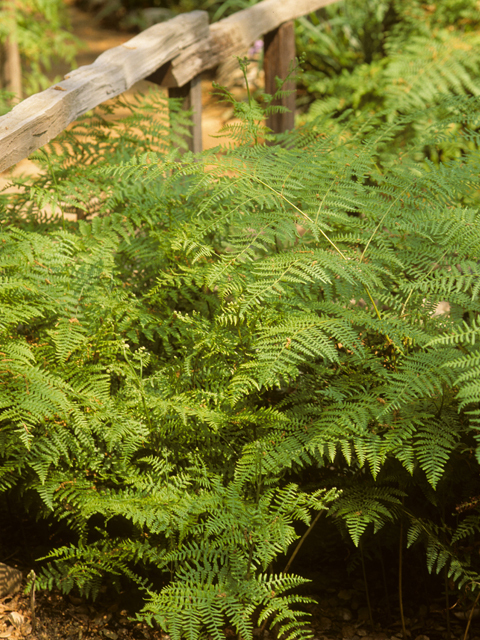 Common Name: Western Bracken Fern, Western Brackenfern, Brake Fern
3-4 feet tall by 4-5 feet spread. Prefers dappled shade but will grow in full sun and part shade; medium to moderately dry moisture level; soils include clays, loams and sands, preferably poor and sterile; prefers slightly acid but tolerates strongly acid pH.
Maintenance: Low
Growth/Colonizing Habit: Very aggressive, invasive fern. Spreads by rhizomes which can travel 20 feet or more. Occurs in every state of the continental U.S., almost every province of Canada, and almost worldwide with the exception of hot and cold deserts. Rhizomes grow under roots of herbs and tree or shrub seedlings and shade them out when fronds emerge. Also releases allelopathic chemicals which are toxic to some plants growing around them. Its presence reduces both land productivity and biodiversity.
Foliage: Deciduous
Native Region: Statewide
Easily recognized by its large, triangular fronds. When first appearing in spring, delicate new curled fronds are covered with downy hairs and unfurl slowly. Although young fiddleheads in spring are considered edible for humans, studies show presence of carcinogenic compounds in plant. Does not tolerate flooding. Needs lots of water to get started but once started is very drought tolerant. Occurs naturally in dry woodlands, old fields, burned-out areas, and thickets and occasionally in wet swamps and marshes. Known to be poisonous to livestock throughout the U.S.