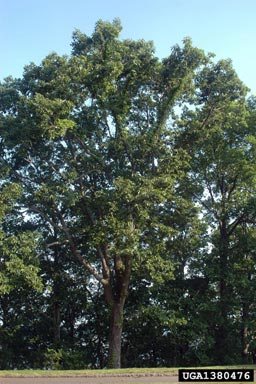 Common Name: Chestnut Oak, Mountain Chestnut Oak, Rock Oak, Rock Chestnut Oak
Full to part sun; medium to dry moisture level; grows in a wide range of soils including silt loams, fine heavy loams, sandy loam, gravelly loam and clays; slightly acid pH.
60-70 feet height by 60-70 feet spread; blooms in spring with drooping, slender, yellow-green male catkins and inconspicuous reddish female spikes; dark brown, glossy acorns, 1 – 1 ½ inches long, in fall.
Growth Rate: Slow
Maintenance: All oaks are susceptible to a large number of diseases, including oak wilt, oak leaf blister, cankers, leaf spots and powdery mildew. Potential insect pests including scale, oak skeletonizer, leaf miner, oak lace bugs, borers, caterpillars and nut weevils. Notwithstanding these problems, oaks are generally considered to be low maintenance trees.
Propagation: Seed germination code A. Due to a deep taproot, best to simply plant an acorn directly in ground or do container-grown seedlings in deep containers for no more than 1-2 years.
Native Region: Middle and East Tennessee
A lovely, small canopy tree with a broad, open, irregular crown and deeply channeled, purplish brown bark that is easy to recognize. Foliage is a dark crimson red in fall. Occurs naturally in sandy, gravelly, and rocky upland soils where it may form pure stands but reaches its best growth on well-drained lowland sites. A good shade tree that does exceedingly well in dry, rocky soil. Acorns are sweet and can be eaten right off the tree.
Very high wildlife value. Acorns are food for turkey, grouse, many songbirds, ground birds and small mammals.