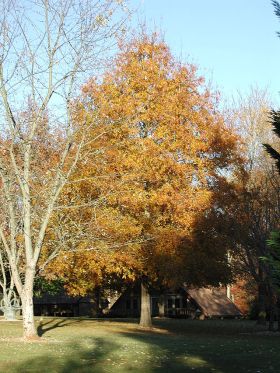 Common Name: Willow Oak, Peach Oak
Full sun to light shade; moderately wet to moderately dry moisture level; tolerates a wide range of soils including medium loam, sandy loam, sandy, clay loam and clay; acidic pH.
40-75 feet height by 25-50 feet spread; blooms in spring as leaves emerge with yellowish green male and female catkins; small, round, brown acorns, up to ½ inch long, with a shallow cup, in fall. Acorns require two years to mature.
Growth Rate: Medium to fast; 1-2 feet per year over 10 years.
Maintenance: All oaks are susceptible to a large number of diseases, including oak wilt, oak leaf blister, cankers, leaf spots and powdery mildew. Potential insect pests including scale, oak skeletonizer, leaf miner, oak lace bugs, borers, caterpillars and nut weevils. Notwithstanding these problems, oaks are generally considered to be low maintenance trees. Difficult tree to train to a single leader and needs considerable pruning in early years to get a respectable crown.
Propagation: Seed germination code C(30-60) at 41 degrees F. Seedlings are not tolerant of shade. Fibrous root system makes it easy to transplant.
Native Region: Statewide
One of the best oaks for overall texture and form. Finer textured than most oaks and is excellent for use as a street tree or in other large areas. Although it is a popular shade tree, it can get too large to be grown around houses, reaching up to 100 feet. Superficially the foliage resembles leaves of willows, hence the common name. This species is especially treasured for its ability to tolerate harsh urban environments. Fall color is usually yellow-orange fading to yellow-brown. Occurs naturally on moist bottomlands, low wet woods, wet woods bordering swamps, and streambanks, and occasionally on drier uplands. Cultivars available.
Acorns provide food for game animals and birds, such as ducks, squirrels, deer, turkey, bluejays, woodpeckers, and flickers. Attracts butterflies. Larval host for White M Hairstreak and Horace's Duskywing butterflies.