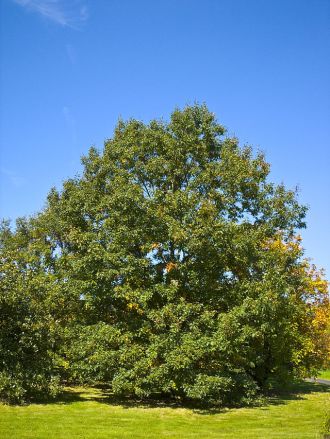 Common Name: Black Oak
Full to part sun; medium to dry moisture level; prefers rich organic soil but grows in coarse sands and gravels, sandy loams to fine clay loam and heavy clay; slightly acid pH.
50-60 feet height by 50-60 feet spread; blooms in spring with drooping, yellow-green male catkins, 3-4 inches long and inconspicuous reddish green female spikes; light reddish brown acorns, ¾ inch long, in fall. Acorns require two years to mature.
Growth Rate: Medium
Propagation: Seed germination code C(90). Due to a deep taproot, best to simply plant an acorn directly in ground or do container-grown seedlings in deep containers for no more than 1-2 years.
Native Region: Statewide
Large oak with large, spreading branches which form an open crown that is quite often irregular in shape. Crown can be narrow or wide-spreading, elongated or rounded. Common name is in reference to bark color which is almost black, with deep furrows, on mature trees. Leaves turn red or orange in fall. Prone to structural damage and decay. Prefers moist but tolerates droughty soils. Grows naturally on upland hills, slopes and ridges and in dry, sandy, upland woods. Lives to 150-200 years. Acorn production begins at about 20 years of age and large crops usually produced every 2-3 years.
Very high wildlife value. Acorns feed a wide variety of songbirds, game birds, deer, and small mammals. Attracts butterflies and hummingbirds. Larval host for Edward's Hairstreak butterfly.