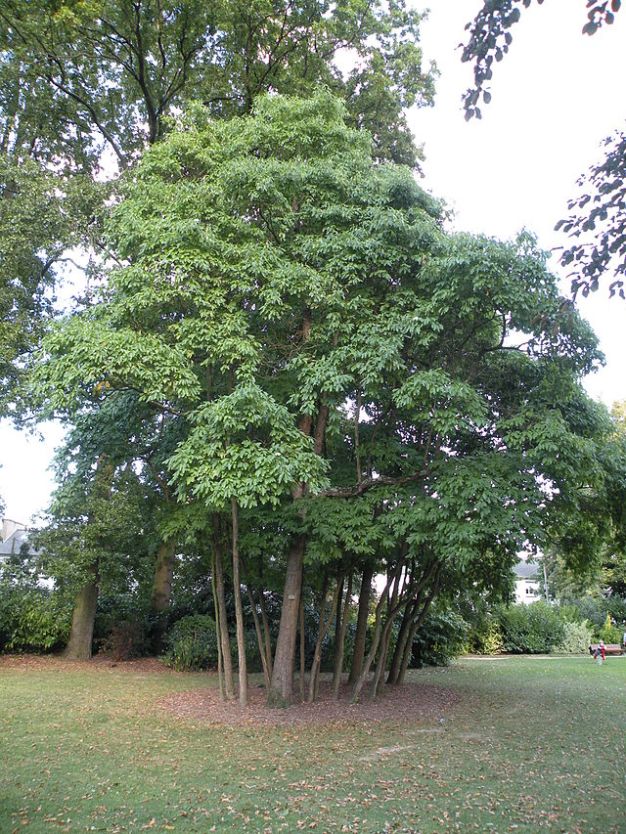 Common Name: Sassafras
Full sun to light shade; medium to moderately dry moisture level; prefers rich loamy soils but will tolerate sandy loam, sandy, and clay soils; can develop root rot if grown in wet, clay soils; acidic pH.
30-60 feet height by 25-40 feet spread; inconspicuous greenish yellow flowers in small, drooping clusters in spring; blue-black fruits, ½ inch long on bright scarlet stems, that mature in September.
Growth Rate: Moderately fast. May sucker into a thicket.
Maintenance: Medium. Weak-wooded so susceptible to wind and ice damage. If root suckers are not removed, tree will spread and begin to appear more like a large, multi-stemmed shrub. Can develop a variety of insect and disease problems but these are generally not serious.
Propagation: Seed germination code C(120) at 41 degrees F. or sow outdoors in fall. Moderately easy from seed. Difficult to transplant because of deep taproot.
Native Region: Statewide
Small to medium-sized tree that is one of the few large, berry-producing trees in eastern forests. Fragrant flowers. Tree is quite lovely and delicate when in flower. Trunks have an orange-brown, alligator-like bark that is both ornamental and easy to recognize. Showy fruit. Need both male and female trees to get any fruit, although only a small percentage of female trees will actually bear fruit. One of the most outstanding native trees for fall color with an excellent display of yellow, purple and scarlet. All parts are spicy and aromatic and tree has historically had many medical and food uses. Occurs naturally on woodland edges, fence rows, fields, thickets and roadsides. Drought encourages root suckers. If suckers are removed, it can be grown as a lawn specimen especially in rich soils where it can reach 70 feet or more However, tree is allelopathic, meaning it produces chemicals which are toxic to other plants growing around it, making it difficult to grow anything under the tree. Cultivars available.
Fruits readily eaten by birds such as quail, turkey, flycatchers, kingbirds, mockingbirds, woodpeckers and warblers. Attracts butterflies. Larval host plant for Spicebush Swallowtail, Tiger Swallowtail, Pale Swallowtail butterflies as well as Promethea Silkmoth.