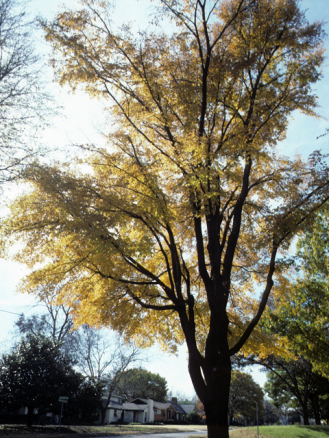 Common Name: American Elm, White Elm
Full to part sun; moderately wet to moderately dry moisture level; grows in a wide range of soils including silt loam, gravelly loam, sandy loam, sandy, medium loam, clay loam and clay; neutral to alkaline pH.
60-80 feet height by 40-70 feet spread; insignificant, greenish-red flowers in late winter to early spring before foliage emerges; fruit is a single seed surrounded by a tan-brown, flattened, oval, papery wing, 3/5 inch across, in late spring.
Growth Rate: Medium to fast
Maintenance: Dutch elm disease is a fatal fungal disease spread by bark beetles (see below).
Propagation: Seed germination code A. Moderately easy from seed.
Native Region: Statewide
Medium to large tree with a vase-shaped, broad, rounded crown and one of our most handsome shade trees. Occurs naturally on streambanks and in lowland areas. Once a popular street and lawn tree, it has been so decimated by Dutch elm disease that it is rarely used in the landscape. Planting is not recommended.
Primary food plant for larvae of a number of butterflies, including Question Mark, Comma, Anglelwing, Painted Lady, and Mourning Cloak as well as the Columbia Silkmoth. Seed attracts birds.