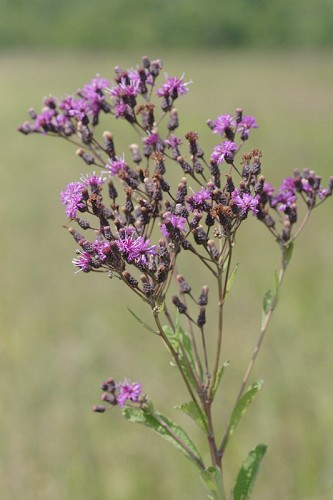 Common Name: Giant Ironweed, Tall Ironweed
Full to part sun, moderately wet to medium moisture level, rich soil preferred but not fussy, moderately acid pH. 5-10 feet height, blooms late summer into fall, magenta purple flowers, will freely self-sow.
Germination Code: C(90). Easy from seed.
Native Region: Statewide
Very adaptable plant with conspicuous flowers. Plants rival goldenrod for attention in the fall. Can be cut back up until July 4 to produce a shorter but still blooming plant. It can be weedy or invasive. Readily self-hybridizes with other Vernonia species which can make plant hard to identify in the field. Common name refers to the toughness of the stem. Attracts butterflies, bees and birds.