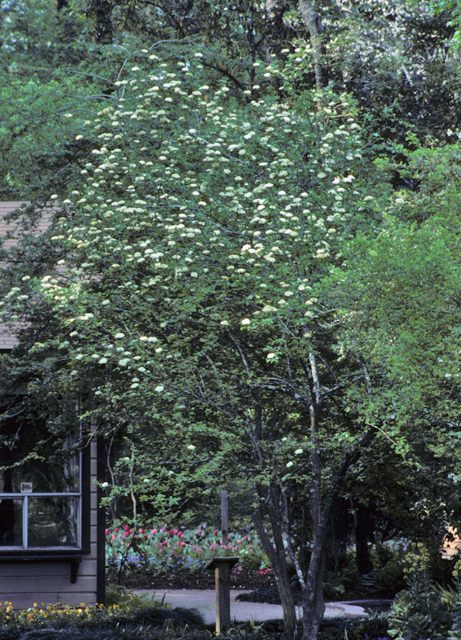 Common Name: Rusty Blackhaw Viburnum, Southern Blackhaw, Downy Viburnum
Full sun to filtered shade; medium to moderately dry moisture level; tolerates a range of soils including sandy, sandy loam, medium loam, gravelly loam, clay loam, and clay; performs well in a wide range of pH conditions from acidic to alkaline.
10-20 feet height by 10-20 feet spread; tiny white flowers in rounded, flattened clusters 5 inches across in spring; fruits are dark blue berries up to 3/8 inch long, held in loose, drooping clusters, in fall.
Growth Rate: Medium
Maintenance: Low. No serious disease or insect problems. Promptly remove suckers to prevent spread unless naturalization is desired.
Propagation: Seed germination code E. Difficult from seed. Most often propagated by semi-hardwood cuttings taken in fall.
Native Region: Statewide
A suckering shrub or small tree that is an interesting ornamental landscape plant. Showy, edible fruit. Undersides of leaves are covered with rust brown hairs, hence the common name. Foliage turns an attractive reddish purple in fall. Makes a good understory planting for use in the shade of large canopy trees. Becomes more dense in full sun. Occurs naturally in open woodlands, on stream and river banks, and in rocky or dry woods and thickets. Good drought tolerance. Deserves to be more widely used. Cultivars available.
Attracts birds, butterflies and bees.