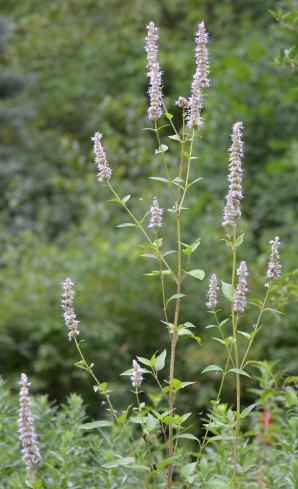 Common Name:  Purple Giant Hyssop
Full to part sun, moderately wet to moderately dry moisture level, sandy soil.  6 ft. height, blooms late summer to fall, purple flowers.
Germination Code: C(60), D
Native Region:  Only in Polk and Carter counties
Designated a "Threatened Species" in Tennessee.  Herb in the mint family.  Prefers moderately wet to medium moisture level and is found growing naturally in rich woodland sites with dappled shade, woodland borders, meadows, thickets, outer edge of flood plains and upland woods. Popular ornamental plant.  Relatively tall height makes it a good selection for background along a fence.  Flower clusters persist throughout winter.  Requires soil disturbance for successful establishment as well as regular maintenance of clearings around the planting to eliminate competing vegetation. Otherwise populations tend to be short-lived because easily outcompeted by other plants.  Attracts a wide range of bees and butterflies.