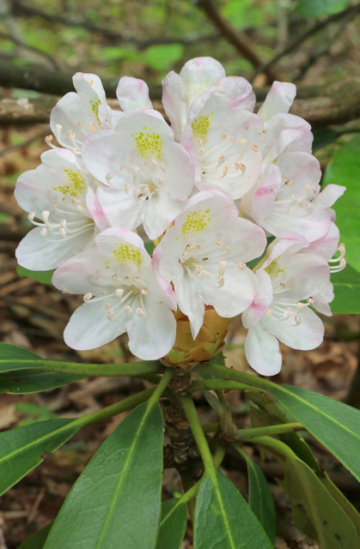 Common Name: Rosebay Rhododendron, White Laurel, Great Laurel
Part to full shade; moderately wet to medium moisture level; preferred soils include moderately fine to moderately coarse sandy or gravelly loams or silt loams; strongly to moderately acid pH.
10-25 feet height by 10-25 feet spread; flowers in summer with colors ranging from rose, purplish pink to white and spotted with olive green to orange; fruits are tan-brown, oblong, dry capsules, each containing 300-400 seeds.
Growth Rate: Medium on mature growth. Rapid by vegetative spread. Forms a dense thicket that excludes nearly all other plants. Spreads by stem layering, root sprouting and re-seeding.
Maintenance: Frequent disease and insect problems. If pruning is necessary, prune immediately after flowering.
Propagation: Seed germination code A. Sprinkle seeds lightly over a 2:1 perlite/peat mix and germinate under mist or a plastic tent.
Native Region: Eastern half of the state
Evergreen, thicket-forming shrub or small tree with short, crooked trunk and a broad, rounded crown. One of the hardiest and largest evergreen rhododendrons and can bloom in heavier shade than almost any other rhododendron species. Easy to identify with its big, drooping donkey's-ear leaves and dainty pink flowers. Not ideally suited to the normal landscape. Sensitive to soil compaction and drought. Native to moist, dense woods, steep streambanks and mountain slopes. Abundant in Great Smoky Mountains National Park and very widespread on the hillsides of the southern Appalachian Mountains. All plant parts are toxic. Cultivars available.
Attracts birds. Special value to bumble bees. Provides cover and shelter for deer, bears, and a wide variety of bird species.