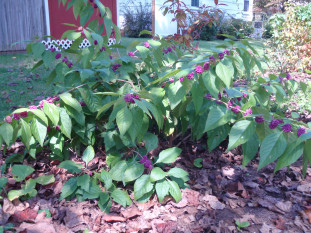 Common Name: Beautyberry
Full to part sun; medium moisture level; will grow in a wide range of soils but prefers a moist clay or sand enriched with organic matter; tolerates a range of pH.
3-6 feet height by 3-6 feet spread; blooms June to September; lavender pink flowers; bright magenta to violet berries in October.
Growth Rate: Fast
Maintenance: Relatively disease and pest free. Flowers are produced on new growth so can be severely pruned right before growth begins in spring to control its size or refresh an older plant.
Propagation: Seed germination code C(90). Easy from seed and roots easily from cuttings. Re-seeds readily.
Native Region: Eastern half of the state and very lightly in western half.
Loose, open shrub which is valued for its spectacular fruits. Fruits best in full sun. Berries are important food for many species of birds and mammals which tend to eat them later in the fall or winter. Attracts butterflies.