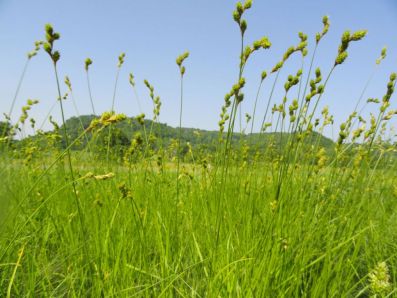 Common Name: Shortbeak Sedge, Plains Oval Sedge, Short-Beaked Sedge
Full sun to light shade; moderately wet to dry moisture level; prefers loam or sandy loam but tolerant of a wide range of soils; tolerant of a range of pH; 12 inches height with flower/seed stalks to 3-4 feet.
Germination Code:  C(60). Easy from seed.
Native Region:  Scattered statewide but limited to 12 counties
Cool season. An attractive, soft-textured sedge that is little known. Similar to other sedges, it appears in early spring and makes most of its growth during the cooler periods of spring and fall. In late spring, multiple hollow stems appear above the foliage, each with 2-6 oval flower spikes which turn to reddish-brown spiked clusters of seed. Flowers are inconspicuous. This is an easy-to-grow, tough, mounding sedge that spreads by short, creeping rhizomes. Can be used for a groundcover, on shoreline restoration projects, for erosion control, or as a lawn alternative on areas of low-to-moderate foot traffic where grass does not thrive. One of few sedges that tolerates dry, sandy areas and will grow almost anywhere. Tolerates drought, alkaline pH and soil disturbance. Occurs naturally in disturbed sites, meadows, fields, and woodlands as well as in wetlands.
Provides cover for wildlife. Caterpillars of several species of butterflies and moths feed on sedges.