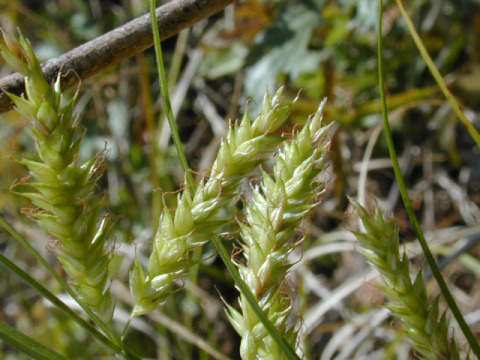 Common Name: Cherokee Sedge
Part to full shade, moderately wet to medium moisture, tolerant of a range of soils except rocky, slightly to moderately alkaline pH.  1-2 feet height by 1–1 ½ feet spread, insignificant greenish-white flowers in late spring, spreads slowly by rhizomes. 
Germination Code:  C(60) but germination is slow, lasting up to several mont
Native Region:  Concentrated in southern halves of Highland Rim, Ridge and Valley, and Blue Ridge Provinces with isolated counties in the Coastal Plain Province.
Cool season.  Forms an attractive, arching clump of fine-textured, narrow leaves.  Attractive, drooping seed heads form in spring.  A useful groundcover and a well behaved sedge for use in perennial gardens.   Also useful as a lawn alternative.  Low maintenance with no serious insect or disease problems.  Thrives in wet soils so is a good plant for low spots and stream and pond margins.  Can grow in average garden soil if given extra moisture during dry periods.   Deserves wider use.   Usually found growing along edges of woodlands on moist sites.