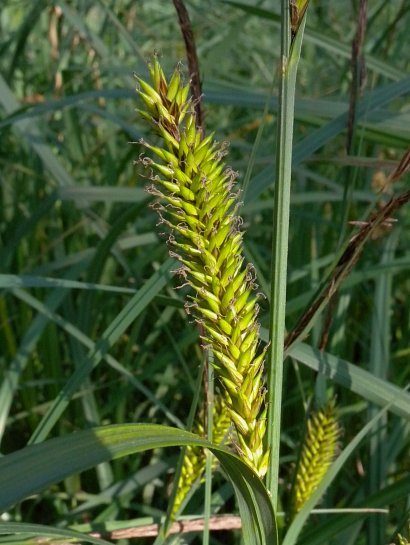 Common Name: Hairy Sedge, Lakebank Sedge, Common Lake Sedge
Sun to shade, wet to medium moisture level, adaptable to most soils except rocky, moderately acid to neutral pH.  2 ½ – 4 feet height, spreads slowly by re-seeding and moderately fast by rhizomes.
Germination Code: C(60)
Native Region:  Occurs in two counties – Hardin and Montgomery
Cool season.  Designated a "Threatened Species" in Tennessee.  Stout, slender grass-like plant with seed capsules hanging high on the stem.  One of the largest sedges with unusually long leaves.  Useful for control of water erosion along ponds or slow-moving rivers.  Attracts butterflies.