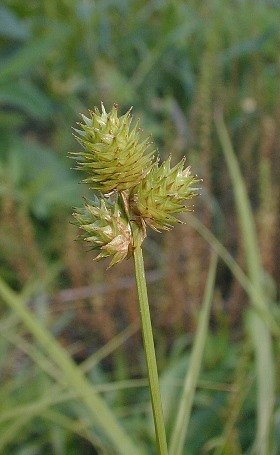 Common Name: Field Oval Sedge, Troublesome Sedge
Full to part sun, moderately wet to dry moisture level, adapts to soil containing loam or clay loam, strongly acid to neutral pH. 1 ½  – 2 ½ feet height, spreads slowly by re-seeding and by rhizomes.
Germination Code: C(60)
Native Region:  Occurs in 3 counties – Greene, Rutherford, DeKalb
Cool season.  In spite of its name, it is an attractive sedge with tight bunches of slender leaves and striking seedheads.  In open habitat, it can become slightly aggressive and weedy. Attracts butterflies.