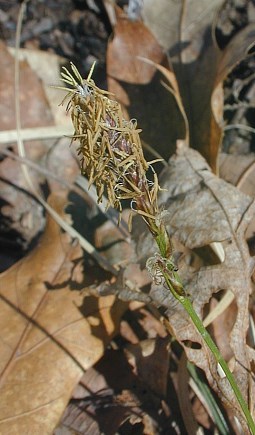 Common Name: Pennsylvania Sedge, High Meadow Sedge, Common Oak Sedge
Dappled sun to light shade, medium to dry moisture level, prefers light textured soils, slightly acidic to neutral pH.  6 – 12 inches height, spreads slowly by rhizomes.
Germination Code:  C(60).  Difficult to grow from seed.
Native Region:  Limited number of counties in Middle and East Tennessee
Cool season.  This sedge has pale green, arching, fine-textured leaves that turn sandy brown in fall.  Forms a lush carpet with time.  Can be a fine groundcover and can be used as a drought-tolerant lawn in shady areas.  Benefits from some afternoon shade and requires a well-drained soil.  Very drought- and shade-tolerant but cannot withstand regular foot traffic.  Attracts birds.