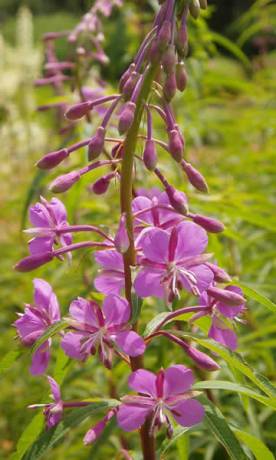 Common Name:  Fireweed, Willow herb
Full to part sun, moderately wet to moderately dry moisture level, tolerant of most soils but not recommended for clay, moderately acid to neutral pH.  3-5 ft. height, blooms in summer, magenta to pink flowers, spreads aggressively by rhizomes
Germination Code: C(30); seeds germinate most quickly if soil is moist and warm.
Native Region: Occurs in only two counties–Carter and Unicoi.
Designated a "Threatened Species" in Tennessee.  Attractive plant with willow-like leaves, red stems and clusters of brightly colored   flowers.  Fairly easy to grow even under less than ideal conditions but must have full sun to do well.  It is often labeled aggressive due to its ability to quickly colonize open areas where there is little competition, but it is generally not competitive with established plants.  Becomes ragged in appearance after blooming is finished and may go dormant during hot summer weather.  Common name comes from fact that it quickly invades burned out forests to form dense masses of color.  Attracts butterflies, bees and hummingbirds.