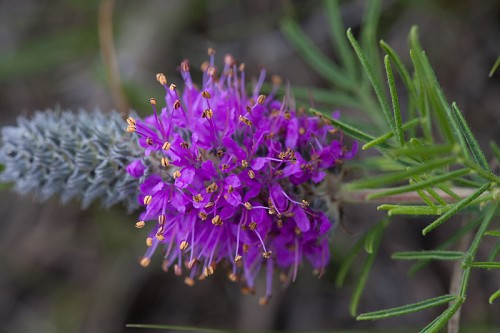 Common Name:  Purple Tassels, Purpletassels, Gattinger Prairie Clover
Full sun, medium to moderately dry moisture level, sandy loam soil, neutral to alkaline pH. 3-6 inches height, blooms late spring into early summer, purple flowers.
Germination Code: ?
Native Region:  Primarily limited to western portion of the Highland Rim and southern portion of the Ridge and Valley Province.
A perennial herb that is a member of the legume family. Forms a 3 inch high green carpet, staying green until November.   Native to dry, calcareous (high in calcium carbonate, i.e. chalky or containing lime), rocky, limestone glades and barrens (areas where limestone bedrock occurs near or at the surface, open areas of rock pavement, gravel, flagstone and/or very shallow soil). Attractive plant requiring a very specific environment. Attracts butterflies and bees.