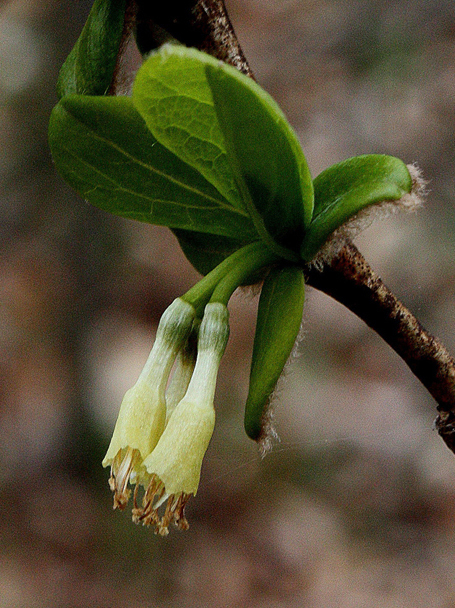 Common Name: Leatherwood
Light to medium shade; medium to dry moisture level; best on rich medium loams but tolerates sandy loams and fine silt loams; slightly acid to slightly alkaline pH.
3-6 feet height by 3-6 feet spread; blooms March and April; pale yellow flowers; red berries in June and July.
Growth Rate: Slow
Maintenance: Infrequent disease and insect problems. Branches attach at narrow angles so biggest problem is breakage from ice and snow loads at these narrow crotches. Trim to shape the young plant to one central trunk for the first 12 inches of height.
Propagation: Moderately difficult from seed. Seed must be planted fresh and often difficult to collect because seeds drop from the plant so quickly.
Native Region: Middle and East Tennessee
Short, dense shrub that often assumes a tree-like form. Has attractive bell-shaped flowers in pendulous clusters and leaves which turn a unique shade of soft yellow in fall. Makes a nice specimen shrub. Rubbery twigs are quite pliable and can be tied in knots, hence the common name. Contact with the leaves can cause minor skin irritation. Very difficult to transplant.Generally wildlife value is fairly low although birds do eat the seed.