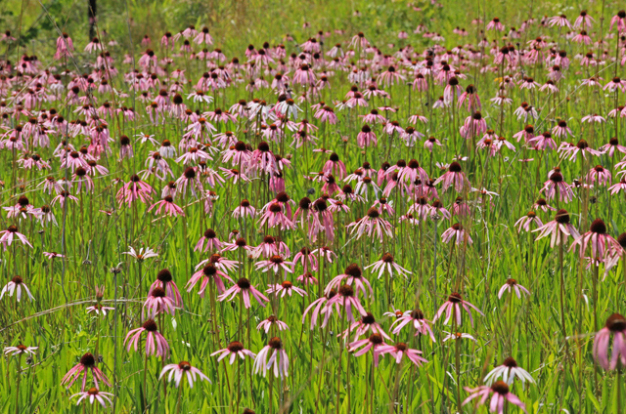 Common Name: Glade Coneflower, Wavyleaf Purple Coneflower
Full sun; medium to moderately dry moisture level; tolerates a wide range of soils including rocky, clay and loamy; prefers fairly neutral pH. 2-3 feet height, blooms in early summer, pale pinkish-purple flowers. Freely self-seeds.
Germination Code: C(60)
Native Region: Only 2 counties – Davidson and Rutherford in Middle Tennessee
Designated a "Threatened Species" in Tennessee. One of the prettiest of the Echinacea. Showy, daisy-like flowers with drooping, pinkish-purple petals. Similar in appearance to Pale Purple Coneflower but with more intense flower color and blooms a little earlier. Low maintenance plant that is easy to grow in average, medium, well-drained soil. Adaptable to drought, heat, humidity and poor soils. Divide clumps when they get overcrowded, about every 4 years. Attracts butterflies and bees.