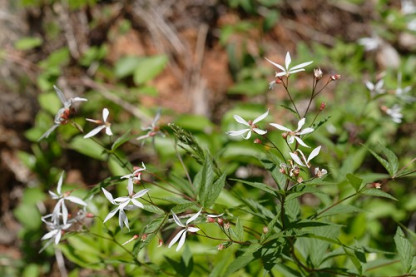 Common Name: Bowman's Root, Indian Physic 
Light shade, medium to moderately dry moisture level, rich rocky soil, moderately acid to neutral pH.  2-3 ft. height, blooms late spring to early summer, usually white but occasionally pale pink flowers.
Germination Code:  M.   Difficult to germinate.
Native Region: Eastern half of Tennessee
Delightful, easy-to-grow plant.  A little sun is OK if soil is moist.  Foliage is green and attractive throughout the summer, and plants color nicely in the fall.  Looks best massed.