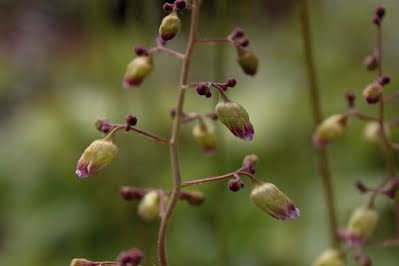 Common Name: Longflower Alumroot
Part to full shade, medium to moderately dry moisture level, loamy or rocky soils, alkaline pH. 6-10 inches tall with a 3 foot tall flower spike, purplish to yellow blooms in late spring. This plant is usually grown for it's green foliage. Flowers are small and nondescript. Spreads slowly to form a groundcover.
Germination Code: ?
Native Region: Only occurs in 6 counties — Claiborne, Hancock, Sullivan, Greene, Cocke, and Sevier.
Designated a Special Concern species in Tennessee. Foliage is a medium green with dark green veining and sometimes a silvery overlay. Needs afternoon shade. Makes a good woodland groundcover. Occurs naturally in shaded woods and roadcuts over limestone substrates and outcroppings. Has a deep-seated taproot so difficult to transplant. Attracts butterflies and hummingbirds.