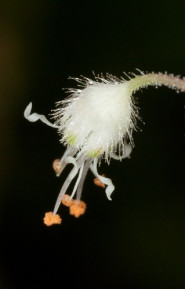 Common Name:  Hairy Alumroot
Part sun to open shade, medium to moderately dry moisture level, rocky soil, moderately acid to neutral pH.  18 inches height, blooms in summer, white to pink flowers.
Germination Code: A, D
Native Region: Middle and East Tennessee
Tiny white flowers and bright green sharply toothed leaves with hairy undersides and hairy stems.