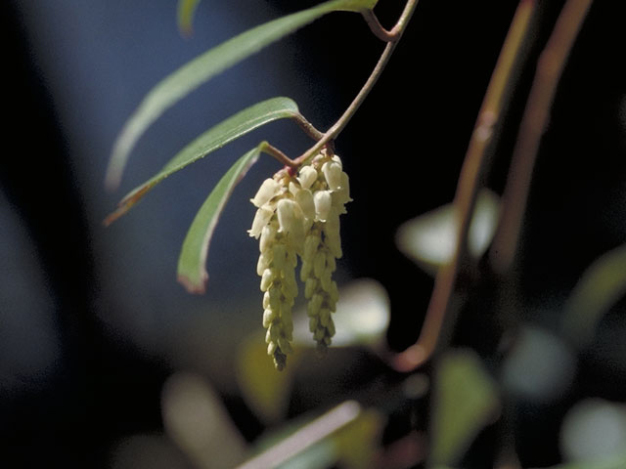 Common Name: Drooping Laurel, Doghobble, Dog-laurel, Fetterbus
Part to full shade; medium to moderately dry moisture level; prefers humusy organic soil but grows anywhere that rhododendron thrive; strongly to moderately acid pH.
3-6 feet height by 3-6 feet spread; blooms April or May; creamy white to pinkish flowers; brown fruit capsules.
Growth Rate: Slow to medium
Maintenance: Susceptible to fungal leaf spot in areas with poor air circulation. Careful siting of the plant with at least partial shade, uniform moisture, and good drainage is needed to avoid leaf spot which produces ugly lesions that often consume the entire leaf. No other serious insect or disease problems.
Propagation: Moderately easy from cuttings and seed. Seeds germinate under mist or a plastic tent. Semi-hardwood and hardwood cuttings root easily with hormone treatment.
Native Region: Unaka Mountains and lightly elsewhere in East Tennessee
Evergreen shrub with spreading, fountain-like arching habit that makes an attractive, no-maintenance mound. New growth is quite often red. Foliage turns red-green and purple in winter. Native to stream banks, shaded woods and ravines in the Appalachian Mountains. Can be grown in full sun but must have consistent moisture. Needs protection from drought and wind. Regenerates with a brand new set of foliage and stems every spring so can survive repeated injuries. Good for stabilizing banks. Low wildlife value.