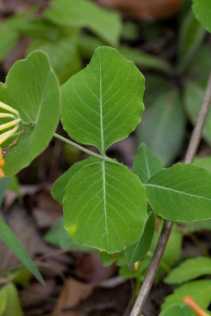 Common Name: Yellow Honeysuckle, Yellow Wild Honeysuckle
Full to part sun; medium to moderately dry moisture level; loam or rocky soil; pH tolerant.
10-20 feet height by 3-6 feet spread; orange yellow flowers in mid-spring; orange to red berries in late summer.
Growth Rate: Moderate
Maintenance: Needs a structure on which to grow and help with twining on the structure or may be left to grow along the ground. No serious insect or disease problems. A thick mulch around root zone is desirable in winter if in an exposed location.
Propagation: Propagates primarily by seeds but its stems are capable of rooting and easily establish new plants. Germination variable; A or C(60).
Native Region: Only occurs in Hamilton County
Designated a Special Concern Plant in Tennessee and is relatively rare across the United States. This is a twining, deciduous, woody vine with attractive, slightly fragrant flowers. Need two plants for cross pollination. Best bloom occurs in full sun. Will tolerate some drying out but no standing water. Can live up to 25 years under ideal conditions. Occurs naturally in upland rocky forests, bluffs and streambanks. Flowers attract hummingbirds and butterflies. Although berries are not edible for humans, birds love them. Good vine for a bird garden.