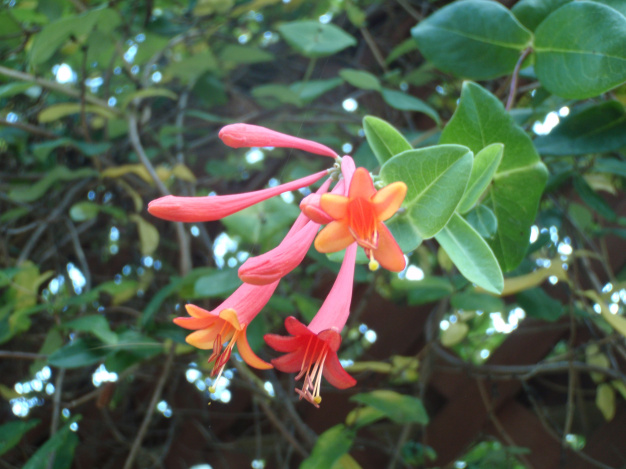 Common Name: Coral Honeysuckle, Trumpet Honeysuckle
Full to part sun; medium moisture level; adapts to a wide range of soils including clay; slightly acid to slightly alkaline pH.
4-15 feet height (depending on support) by 4-8 feet spread; blooms April through September; bright scarlet, slender, tubular flowers; does not fruit reliably but produces clusters of translucent scarlet berries from late summer to fall.
Growth Rate: Medium to fast
Maintenance: Low maintenance and easy to grow. Blooms primarily on last year's stems so prune to shape after flowering. Infrequent disease problems; occasional insect problems.
Propagation: Seed germination code C(90). Easy by cuttings.
Native Region: Statewide
Semi-evergreen vine with showy flowers and showy fruit. Very long-flowering period. The more sun, the more flowers. Non-invasive. Best grown on trellises, fences, arbors or pergolas. Cultivars available. Attracts bees, butterflies and hummingbirds; birds eat the berries.