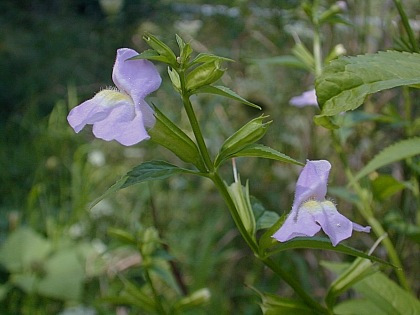 Common Name:  Monkey Flower, Sharpwing Monkeyflower 
Part sun/part shade, moderately wet to moderately dry moisture level, prefers rich organic soil but tolerates most soils except rocky, slightly acid to neutral pH.  2-5 ft. height, blooms in summer, lavender blue to pink flowers, spreads at a moderate rate by re-seeding and at a slow rate by rhizomes.
Germination Code: ?
Native Region: Statewide
This species is a wetland plant in Tennessee.  Not a strong colonizer.  Larval food for the Buckeye butterfly caterpillar.