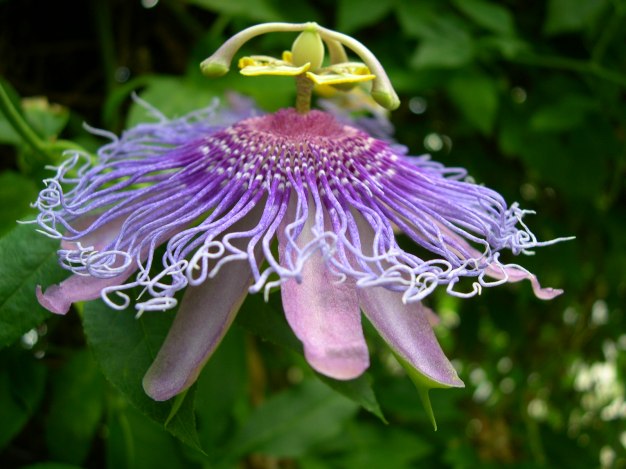 Common Name: Passion-flower, Maypop
Full to part sun; medium to moderately dry moisture level; prefers fertile, well-drained soil but tolerates clay and sandy soils; moderately acid to neutral pH.
6-8 feet height by 3-6 feet width; blooms June through August; lavender flowers; yellow, 2 inch, egg-shaped fruit.
Growth Rate: Rapid
Maintenance: No serious insect or disease problems. Roots can spread aggressively. To control spread, remove suckers regularly. Emerges fairly late in spring after all danger of frost is over so don't get discouraged if it appears to have not made it through winter.
Propagation: Seed germination is sporadic over a long period, as much as 2 years. Cuttings and division are more predictable than seed propagation. Can use root suckers to propagate by division in early fall–remove and separate with a shovel, transplant and water immediately.
Native Region: Statewide
Attractive vine with unusual, showy flowers with a tropical look. Designated the Tennessee state wildflower. This is a perennial herbaceous vine that dies back to the ground each winter. Prefers moist soil but highly drought tolerant once established. Requires direct sunlight for at least 1/2 day, and plants color their best when climbing in sun. Climbs by tendrils from the leaf axils. Grows without care in a wide variety of places and well equipped for difficult ascents. Can be used on trellises, arbors, walls or fences or can be left to scramble across the ground. The name Maypop comes from the hollow, yellow fruits that pop loudly when crushed. Although fruit is edible, it is not very tasty. It can be cooked into juice or jelly. Leaves turn a brilliant crimson or cherry red in fall. Attracts butterflies and bees; is an important larval food source for Gulf Fritillary and Variegated Fritillary butterflies.