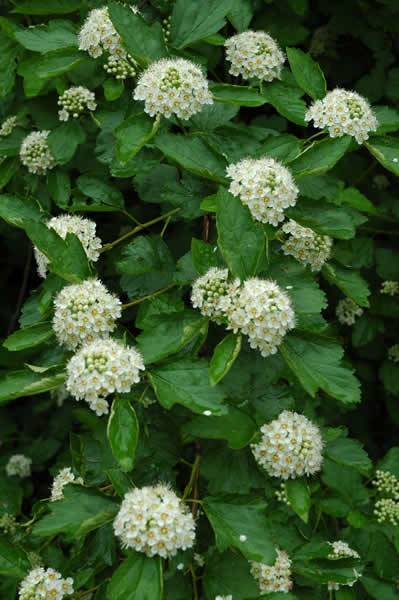 Common Name: Ninebark, Common Ninebark
Full sun to shade; moderately wet to moderately dry moisture level; tolerates a wide range of soils including gravelly loams, medium loams, fine sandy loams, silt loams, clay loams and clays; slightly acid to slightly alkaline pH.
6-12 feet height by 6-12 feet spread; blooms in May and June; white or pink-tinted flowers; fruit is a papery, 4-parted bladder-like capsule which is bright red at first and then turns brown.
Growth Rate: Fast
Maintenance: Easy to grow. Infrequent disease and insect problems. Cut to the ground about every 10 years to clean it up and force growth of a new set of stems.
Propagation: Seed germination code A. Easy from seed or cuttings.
Native Region: Middle and East Tennessee
Deciduous shrub with a dense, rounded appearance and of rather rank habit with its canes shooting out in all directions. Bark exfoliates in large, papery strips. One of its best features is its ability to thrive almost anyplace. Has showy flowers and is closely related to the genus Spirea. Attracts bees, butterflies and other insects; provides nesting shelter for birds. Cultivars available.