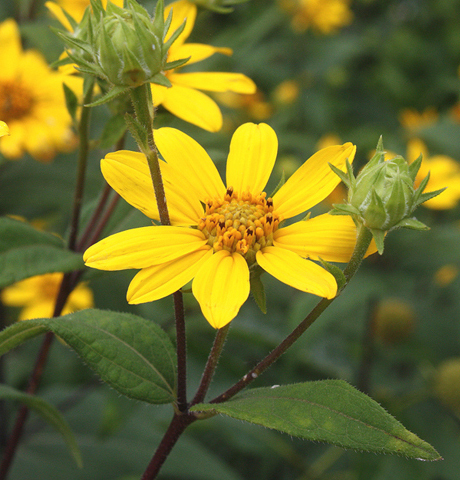 Common Name:  Hairy Sunflower, Rough Sunflower, Stiff-hair Sunflower, Bristly Sunflower, Whiskered Sunflower
Full to part sun; medium to moderately dry moisture level; clay loam, loamy, rocky or sandy soils; acidic to neutral pH. 2 ½ – 5 feet height, with size being quite variable and up to 7 feet height; blooms summer into fall; yellow flowers; spreads by underground rhizomes and sometimes forms dense colonies.
Germination Code: C(30)
Native Region: Statewide
Easy-to-grow sunflower with individual flowerheads 2 ½ to 3 inches across. Leaves are covered in dense, rough hairs on both top and bottom, hence its common names. Long-lasting flower display. This species can hybridize with other sunflowers, often making visual identification difficult. A strong competitor in the garden and can become weedy. Occurs naturally on open land and in open forests, generally on drier soils, including rocky or dry open woods, savannas, prairies and along roadsides.  Flowers attract a wide range of insects, including bees and butterflies. Larval food for a number of butterfly species including the Painted Lady butterfly. A wide variety of birds feed on the seed as well as some mammals including squirrels.