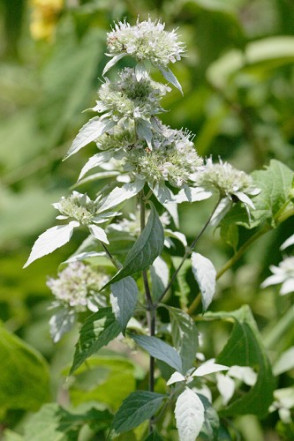 Common Name:  Silverleaf Mountain Mint, Hoary Mountain Mint
Full to part sun, medium to moderately dry moisture level, humus-rich soil.  2-3 ft. height, blooms in summer, white flowers sometimes tinged with lavender, spreads by rhizomes.
Germination Code: A
Native Region:  Only occurs in 7 counties scattered statewide – Chester, Cheatham, Robertson, Sumner, Morgan, Bledsoe, and Meigs
Attractive and desirable addition to the garden.  Valued primarily for its silvery and fragrant foliage.  Easy to grow.  Can become invasive but easily controlled by division every 3-5 years.  Attracts butterflies, bees and moths.