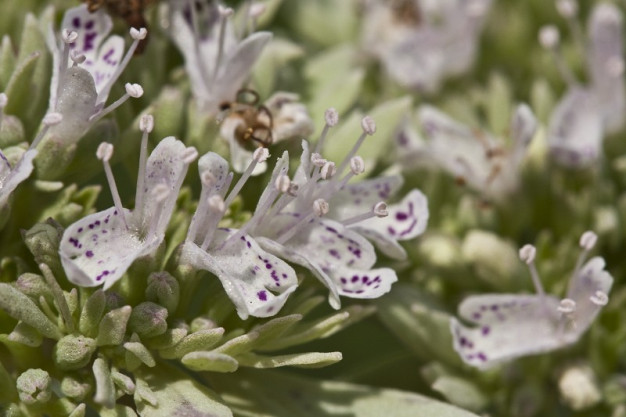 Common Name: Big Leaf Mountain Mint, Short-toothed Mountain Mint, Clustered Mountain Mint
Full to part sun, medium to moderately dry moisture level, prefers fertile soil but will grow in sandy or clay soils, mildly acidic to mildly alkaline pH.  2-3 feet height, pinkish flowers, blooms for a long period from July through September.  Expands into colonies via shallow rhizomes.
Germination Code:  C(21), D
Native Region: Concentrated in Middle Tennessee and secondarily in Blue Ridge Province
One of the most attractive blooms in the mountain mint genus, displaying two-lipped, tubular, pink flowers held in tight clusters with underlying silver bracts (specialized leaf located just below the flower).  Although flowers are small, they contain much pollen and nectar. Leaves have a strong, spearmint-like aroma when crushed.  Drought-tolerant and a vigorous grower under optimum conditions.  Although it spreads, it is not overly aggressive as are most mountain mints.  Give it plenty of room to grow.  Best when allowed to naturalize in native gardens.  Attracts many beneficial garden insects including butterflies, bees, beneficial wasps, and moths.