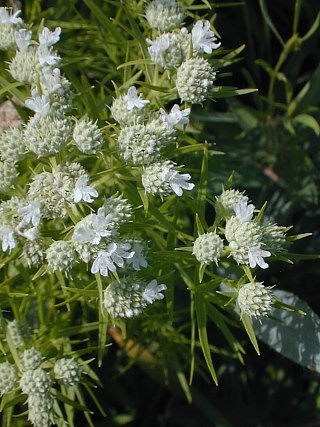 Common Name:  Slender Mountain Mint, Narrowleaf Mountainmint
Full to part sun, moderately wet to moderately dry moisture level, tolerates a wide range of soils including clay, moderately acid to neutral pH.  18-30 inches height, blooms in summer, white flowers, spreads by rhizomes and re-seeding.
Germination Code: A, D.  Very small seeds at 378,000 per ounce.
Native Region: Statewide
"Mountain" is a bit of a misnomer since the plant typically grows in the wild in dry woods, dry prairies and along roadsides.  All parts of the plant emit a strong aroma of mint when crushed.  Dried leaves can be used as a flavoring and in tea.  Attractive flowers.  Easy to grow.  Vigorous and sometimes aggressive grower.  Attracts birds, butterflies and bees.